Imagine you bought a record you've wanted for years. You go to play it but realize it won't play because you didn't store it properly. Having record crates on hand could have helped you avoid the problem.
So you decide to look at a few crates to keep from damaging the rest of your vinyl collection. That way, you can show off your collection visually and musically.
The Best Record Crates
When shopping for record crates, you may come across tons of options. However, not all crates are worth it for you or your vinyl collection.
You should look at a few crates and compare them. But you don't need to compare every single crate you find. Instead, start with these crates to see if one stands out.
Then, you can find the best record crate for you.
Related Read: The 6 Best Vintage Turntables For An Authentic Sound
Edsal Black Storage Crate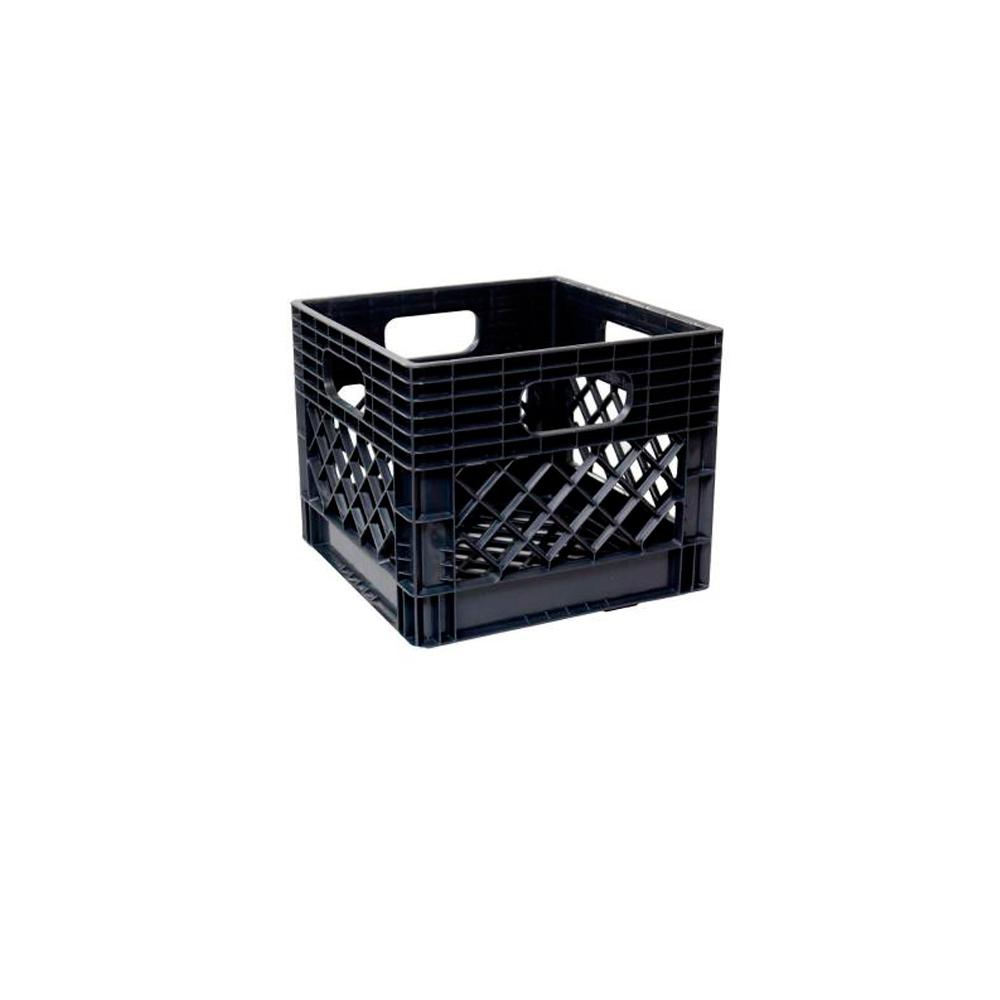 Buy at HomeDepot.com
The Black Milk Crate from Edsal isn't specifically for storing records, but it's a good option. It measures 11 x 13 x 13 inches and it's black, so it looks good with anything.
You can use the crate to organize almost anything, so get one for your records and another for other supplies. The heavy-duty design is strong enough to hold full loads, but it can also hold quite a few records.
It's a great option for small record collections. As your collection grows, getting more milk crates won't be too expensive. However, you will need to store it somewhere with access to the top.
If you need to store it without top access, the handles make it easy to move around. Then, you can take the crate out of storage to access your records. And you can stack the crates, which is useful if you have more than one.
Crates & Pallet X-Large Wood Crate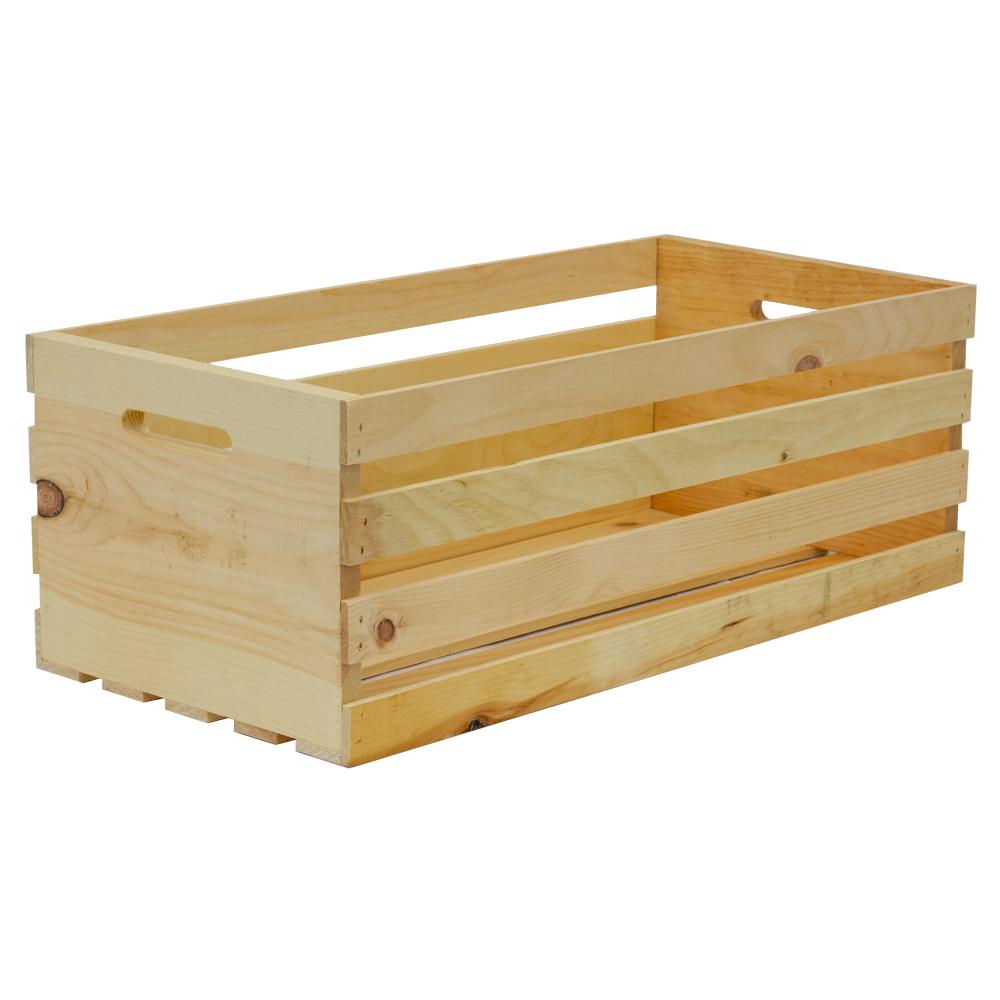 Buy at HomeDepot.com
Another more general crate to consider is the Crates & Pallet X-Large Wood Crate. It's a pine crate without any finish, so you can leave it that way or add your own paint or stain.
The sides feature slats that allow you to view what you store inside the crate, so you can get a quick view of your record collection. At 27 x 12.5 x 9.5 inches, it has plenty of room for a growing set of records.
You'll receive the assembled crate, so you can start using it immediately. Fill the crate with your favorite records standing up and add any other accessories if you still have room. Then, you don't have to waste any of the space.
Each end of the crate has a carrying handle to help you move it around. That way, you don't have to store the crate where you can access the records. Instead, you can take your collection between storage and your turntable.
VRSS Storage Shelf
No products found.
No products found.
If you want something more specific for record storage, consider the VRSS Storage Shelf. It is more of a shelf than a crate, but it can hold more records than other options. The shelf contains four cubes so that you can organize your vinyl.
Each section holds up to 70 LP records, so it's great for new collectors and people with a ton of records. While you can't transport it easily, you can store it next to your turntable or wherever you have space.
You don't need to move the unit to access your records. If you want to search for something quickly, you can grab it without much hassle.
The shelf measures 31 x 15 x 30.5 inches, and each section can hold records measuring up to 13 x 13 inches. As you grow your record collection, you can use some of the sections for storing other items.
Warm Stylus Vinyl Record Storage
The Vinyl Record Storage container from Warm Stylus is a small option specifically for your record collection. It's easy to assemble and won't take up much space. The 15 x 12-inch crate can store up to 50 records at once.
However, storing that much can be a tight squeeze. If you store closer to 40 records, you can skim through each without the risk of breaking the crate.
This crate uses plywood, and it looks and feels good. It features handles on each side to help you move the crate around. And the slight V in the front makes it easier to view your records.
As long as you store it somewhere with top access, you can grab whatever record you need quickly. If you need to take the crate apart for storage, you can do so without any tools.
Related Read: 10 Best Automatic Turntables – Keep the Magic Going
Victrola Wooden Record Crate
The Victrola Wooden Record Crate is another fantastic choice for a small group of records. It measures 14 x 11.8 x 13.5 inches and can store over 50 records at once.
This crate is suitable for 33s, 45s, and 78s, so it's great for a versatile record collection. Once you receive the crate, you can assemble it without any tools.
It comes in a few finishes, such as a standard wood color, oak, and mahogany. If you want a different look, black and white crates are also available. Consider mixing and matching different crates with your other furniture.
The crate is pretty sturdy and durable, and it weighs just over five pounds. Because of that, you shouldn't have to worry about it collapsing under the weight of your vinyl records.
Sound Stash Bamboo Record Crate
The Bamboo Record Crate from Sound Stash is an excellent option. It uses solid bamboo to form a sturdy, durable crate for your records.
Assembling the crate is easy, so you can get it up and ready in no time. Then, you can fill it with up to 80 records. Each end has a carrying handle to make moving your collection easy for when you want to access or organize your records.
While you can stack the crates, you may want something to secure the sides. That way, the top crate doesn't have to rest on the records in the bottom crate. However, the crates can line up next to each other for easy storage.
This crate comes in a few finishes, including natural, dark, and brown. Think about your current furniture to decide which finish would look best in your home.
Adult Pop Chalkboard Vinyl Record Storage Crate
Adult Pop's Chalkboard Vinyl Record Storage Crate is excellent for anyone who wants to get creative when organizing their vinyl. The front has a chalkboard panel that's great for labeling or simply drawing.
As your record collection grows, get more crates and separate your records by era or genre. The chalkboard is easy to use and reuse as you move records around.
While it doesn't feature carrying handles, the sides use wood slats with space in between. The slats have enough space for your hands to help you carry the storage crate.
Each crate can hold up to 75 records, and you can stack them. Then, you won't need as much horizontal space. And when you get the crate, you'll only need a Phillips screwdriver to set it up.
Crosley Record Storage Crate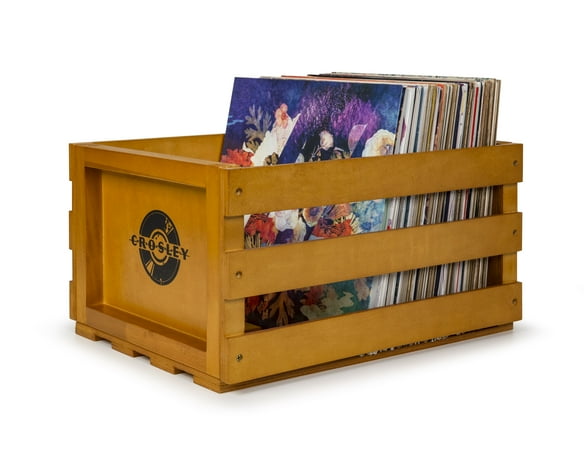 Buy at Walmart.com
The Crosley Record Storage Crate is a great choice if you want to show off your record collection. This crate measures 13.75 x 18 x 19.5 inches and weighs about 4 pounds.
It features a natural wood finish with a full panel on the front with the Crosley logo, but you can also choose from black, sage, pale blue, and more. The sides have three slats that keep the crate together, and you can hold the slats for transportation.
If you don't have enough records to fill the crate, that can help you browse your collection. Then, you don't have to search as much to find the record you want.
As your collection grows, consider getting multiple crates. That way, you'll be able to display your entire selection. The natural wood finish can go with almost anything, so it's a good option for your home.
Related Read: Crosley CR6019A-BK Review – Entering The World Of Vinyl On A Budget
Crosley Stackable Record Storage Crate
If you like the look of the other Crosley crate but have a large collection, consider this Stackable Record Storage Crate. It's a great option if you don't have much room for your vinyl.
As you get more records and crates, stack them on top of each other without damaging the records. The front, back, and sides are all tall enough to contain the vinyl. They can also provide stability to the top crate.
Unfortunately, it doesn't contain carrying handles. However, the slats are far enough apart to help with carrying. Then, you can move the crates back and forth as necessary.
The Crosley stacking crates measure 12.88 by 14 by 13.63 inches, and each weighs roughly 4 pounds. You won't have to worry about the crate breaking under the pressure of your records.
Where to Get Record Crates
Once you get an idea of the record crates that interest you, you need to find where to buy them. Shopping online is an easy option because it opens you up to multiple stores.
You don't need to live near a record store or another store with record crates to buy one. However, shopping in person allows you to view the stock then and there. Then, you won't have to wait for shipping.
Where to buy milk crates that hold record albums
If you don't need a record crate specifically, you can buy milk crates from more general retailers. Stores like Home Depot carry milk crates that offer different uses, from storage to seating.
A milk crate is an affordable option compared to some record crates. The container can store your records just as well as a more expensive model. And you can find vintage and gently used milk crates easily at thrift stores and eBay.
How to Choose a Record Crate
As you narrow your search for the best record crates, you have to make a decision. While you can have different crates, consider if you want your collection to look uniform.
If so, you may want to choose one type of crate now. As your record collection grows, you'll be able to buy more crates.
Here are a few factors to consider before buying a record crate.
Materials
First, you should consider if you want a wood, plastic, or bamboo crate. Wood and bamboo can add a vintage appeal to your space. But plastic is sturdy and doesn't typically require assembly.
Plastic is also cheaper than wood or bamboo crates of the same size and quality. Think about which material is worth it for you.
Storage
Another thing to consider is if you want to keep your records right by your turntable or elsewhere in the room. That way, you can determine if you have enough space for multiple crates or if you'll need to stack them.
Related Read: Top 9 Turntables For The Money – Going Back To The Roots
You may also want to consider how to access individual records. If you plan to stack the crates, make sure you have enough space on top to quickly grab your favorite records.
Cost
Next, think about how much you can afford to spend on record crates. Some crates are cheap, while others cost more than double the most affordable option.
Compare the cost to the value as well so that you can determine if you want to pay more or not. While the cost of a crate matters, you should look at it in context to determine if it's too expensive or not.
Size
The size of your record crate also matters for a few reasons.
Number of records
Stacking and storage
Fit within your space
Consider if you want the records to stick out over the top of the crate or not. Then, you can look for a crate of the right height and size.
What are the dimensions of wood record crates?
Wood record crates can vary in size, including the height, width, and depth. At a minimum, your crate should be at least 12 inches wide to accommodate the biggest record cover.
The depth can depend on if you want to stack the crates or show off the tops of your records. And you can look for a deeper crate if you have more records you want to store.
On the Record
Finding record crates to store and protect your vinyl collection can be difficult, but it's essential. The right crates will keep your records safe during storage, so you can play them over and over.
Whether you want a stackable crate or not, consider options from Crosley, Sound Stash, and more. And don't forget about a standard milk crate if you can't find anything else.
Last update on 2023-02-04 at 02:51 / Affiliate links / Images from Amazon Product Advertising API